Are stairs in your home becoming an
obstacle for you or a loved one?
If you're looking for a simple solution to remain in your home longer, a stair lift may be the right choice and a sound investment.
Stair lifts, also referred to as chair lifts or stair climbers, are designed to move people up and down the stairs effortlessly. Residential stair lifts are incredibly reliable and most people find them very easy to use. We are proud to distribute and install a wide variety of premium indoor and outdoor stair lifts. Each of our models has been designed to the highest standards of comfort and safety.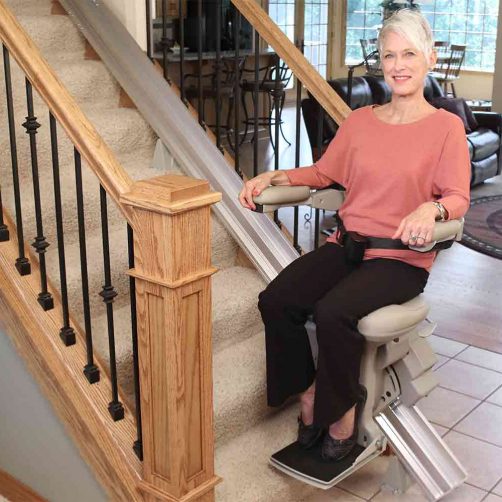 Indoor Straight Rail Stair Lifts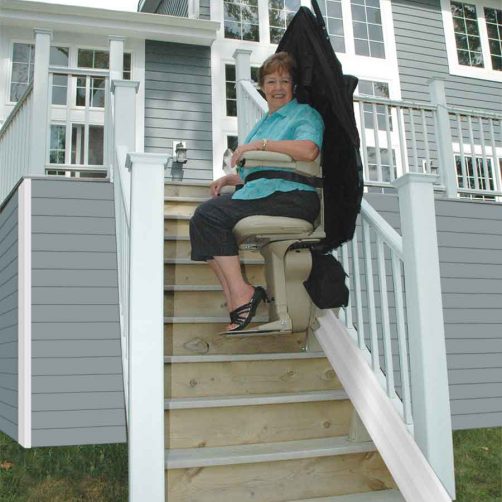 Outdoor Straight Rail Stair Lifts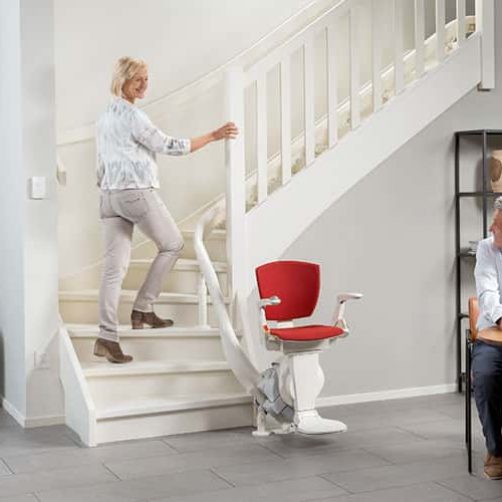 Indoor Curved Stair Lifts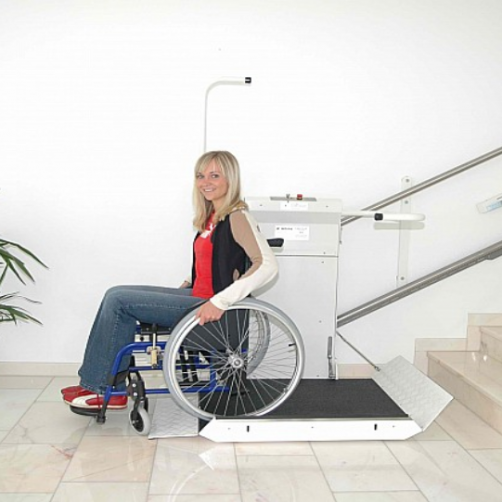 Stair lifts are suitable for
Those with reduced mobility
Those who use walking frames or aids
Elderly persons
Carry capacity up to 181kg
Installation options for most staircase designs
Our stair lifts come in a variety of designs and models. The best one for you will depend on the configuration of your stairs and whether the stair lift will be installed inside or outside. Our stair lifts work in both straight staircases and more challenging situations, such as curved or narrow staircases and stairs with landings. They're also great for navigating garden steps, decks and porches.
Stair lifts are fitted directly onto the stairs and do not need to be installed against a load bearing wall, which allows for simple installation with no alteration to your home. They are powered through a standard electric connection to a 3-pin plug located close to the lift.
We offer very short lead times to allow for the quick installation of your stair lift with experienced Vestner contractors throughout the country.
Safety and comfort
We have spent a great deal of time assessing and qualifying the stair lifts available on the market today. We choose to only distribute lifts that offer the user the utmost in safety and comfort. Our stair lifts offer the following features:
Easy to operate controls, even for those with limited dexterity
Whisper quiet operation
Diagnostic digital display to indicate lift status
Additional handheld remote controls that allow the user to 'call' or 'send' the stair lift up and down the staircase – great when there are two users in the home
Safety sensors on the footrest and carriage to automatically stop the lift if an obstruction is encountered
Limit sensors to ensure the lift always stops at the correct position
Smooth start/stop action – no sudden jolting or lurching
Battery powered – continues operating in event of a power outage
Comfortable padded seat and backrest
Seat safety belt
Lockable swivel seat – no need to twist your body to get on or off the lift
Lockable on/off isolation switch to prevent others from using the lift, if necessary
Seat, arms and footrest can be folded up neatly when not in use, saving space and allowing for staircase use by others
Options such as a hinged rail for situations where landing space is limited
Choosing a stair lift
With all of the options available, we understand that choosing the right stair lift can feel a bit overwhelming. We are happy to help you decide which lift is right for you and provide you with further information or assistance on the suitability of each model.
Vestner
Get in contact today