Vestner Advance 5
VESTNER Advance 5 guarantees a reliable and efficient elevator system through state-of-the-art drive technology, smooth running performance and customisable control.
Find out more about the key features and options of the Vestner Advance 5 below.
VESTNER lifts have many advantages:
+ Attractive equipment options for all types of buildings
+ EN81-70: Cars and panels according to standard
+ Optimal running smoothness by plastic-coated steel ropes
+ Easy planning
+ Easy installation: less installation time > less costs!
+ Easy maintenance – easily accessible service panel
+ Cost effective
+ Energy efficiency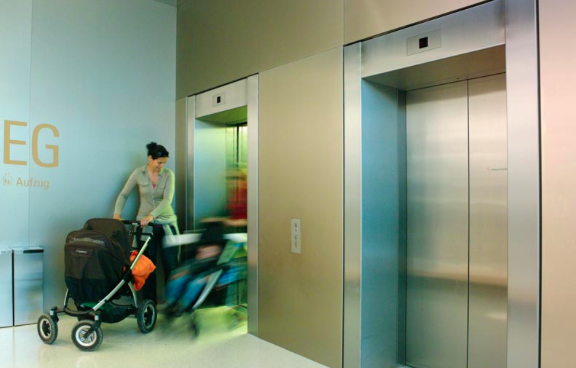 Particular advantages for planners:
Gearless synchronous drive with the lowest connected load.
Capacities: 300/450/600/1000/1275/1600 kg
Travel height up to 40 m, up to 16 stops.
Speed: 1.00 m/s up to 1.60 m/s
Headroom height : 3450 mm,reducible to 2600mm (up to1000 kg)
Shaft pit: 1050 mm,reducible to 400mm (up to1000 kg)
Multi-variant equipment.
The precisely right combination for each planning:
6 paint surfaces, 3 structures of stainless steel, 15 coloured glass shades combined with 12 variants of car flooring as well as mirror variants and a customisable slim panel technology.
Elevator systems put into practice in minimum time.
Good preparation enables shorter planning time and secure scheduling: our planning folder allows you fastest execution from the shaft planning to the construction phase in detail.
Extensive service offers for new installations.
For reliable, error-free as well as legally-compliant operation:
Maintenance and technical service, emergency call systems and on-call service, inspection management etc.