VESTNER A5000
Elegant and ergonomic platform lifts with a rated load of 400-500 kg
The platform lift Vestner A5000 is a space saving and smart accessibility solution and a great alternative to conventional lifts. Platform lift Vestner A5000 is a ready-made lift product that requires no separate lift shaft, machine room, nor lift pit. This makes platform lift Vestner A5000 fast and easy to install.
Platform lifts at affordable prices
The price of your platform lift will depend on the choice of configuration and lift options, but the price you pay will always be a lot lower than the price of a conventional lift. Find out more about the key features and options of the platform lift Vestner A5000 below.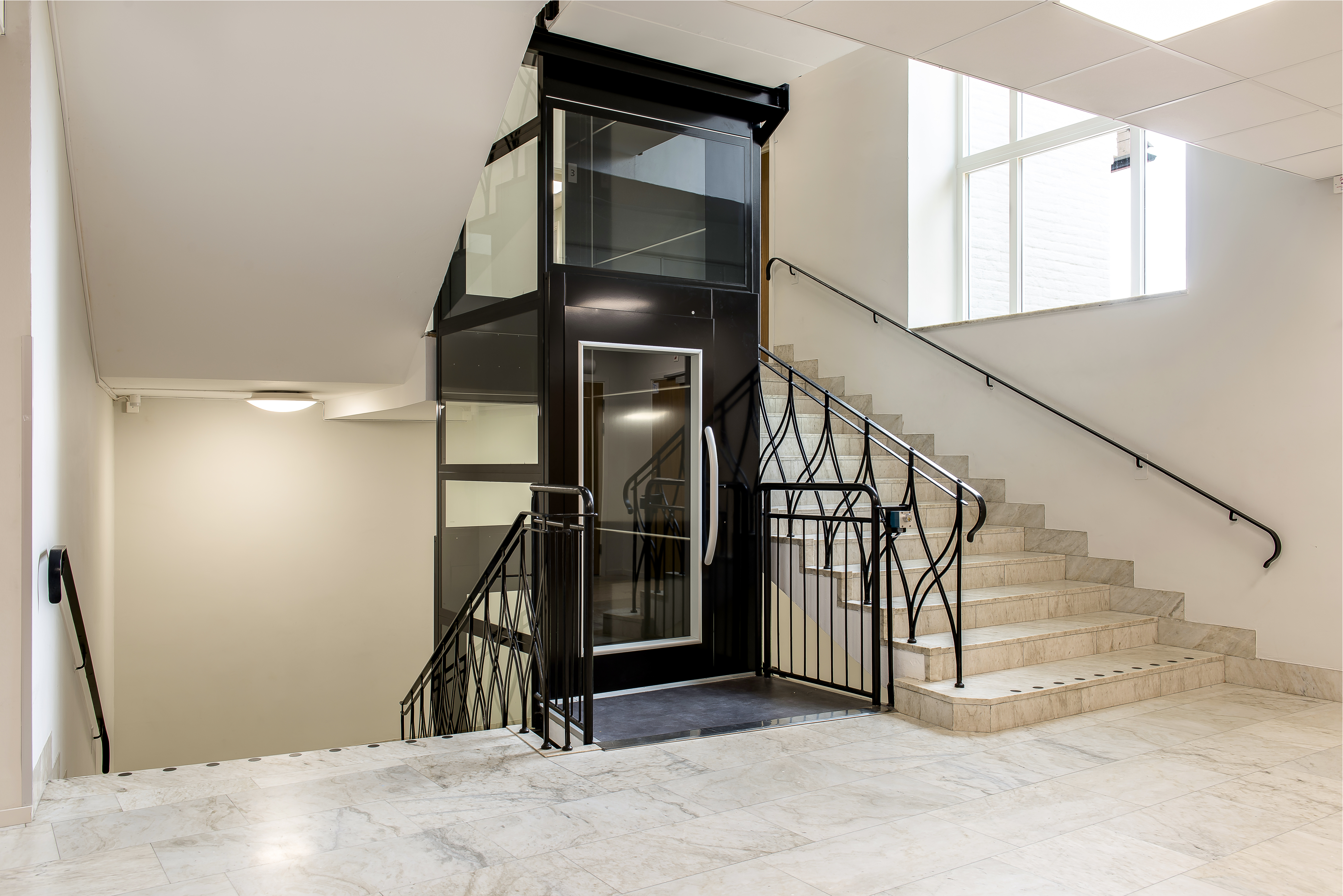 Installation
Indoors
Rated load
400 or 500 kg
Rated Speed (m/sec)
Max 0,15 (9 m/min)
Travel height
Up to 13 m
Min.headroom at top landing
2250 mm
Pit depth without ramp
50 mm
Platform size (w x d, mm)
800 x 1217
900 x 1467
1000 x 1267
1000 x 1467 (standard)
1100 x 1367
1100 x 1467 (standard)
1100 x 1597
1000 x 1967
Cut-out size (w x d, mm)
1200 x 1380
1300 x 1630
1400 x 1430
1400 x 1630 (standard)
1500 x 1530
1500 x 1630 (standard)
1500 x 1760
1400 x 2130
Maximum number of stops
6
Travel speed (m/sec)
Max 0.15
Standard shaft finish
Steel panels RAL 9016
Door configurations
Single-entry, open through, adjacent
Landing doors (type)
Swing doors
Door clear opening (w x h)
900 x 2000 mm (standard platform)
Gate clear opening (w x h)
900 x 1100 mm (standard platform)
Drive system
Screw and nut, with safety nut
Control system
Micro computer based system
Power supply
400 VAC 3-phase 50/60 Hz 16 A (standard)
230 VAC 1-phase or 3-phase 50/60 Hz 16 A (option)
Battery emergency lowering
Standard
Motor power
2,2  KW
Operation
Auto run on landings, hold-to-run on platform
Control panel
Hold-to run,easy-to-use tactile buttons, alarm button, emergency stop button and  LED-light
Machine room
Integrated
Certification
EN 81-41 & MD 2006 / 42 /EC
Manufactured in
Sweden
Elegant
Range of sizes
European quality
Easy to install